Medical Accounting Services for Health Care Practitioners in Tampa, FL & Surrounding Cities from J.B. Underhill, CPA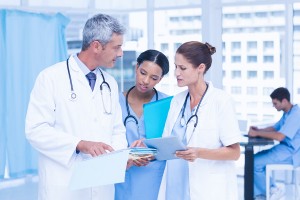 Medical accounting services provided by J.B. Underhill, CPA, an accounting and business advisory firm serving Tampa, Florida, and surrounding communities, can help your practice meet the financial challenges of the ever-evolving health care industry. In this highly competitive field, maintaining and growing a business can require a significant amount of time and effort. As a health care professional, you'd understandably prefer to spend that time and effort caring for your patients. Allow J.B. Underhill, CPA to focus on the health of your finances as your medical accountant, while you focus on the health of your patients – without compromising your bottom line.
J.B. Underhill, CPA specializes in providing medical accounting services to all types of health care organizations and practitioners, including physicians, medical groups, chiropractors, physical therapists, dermatologists, surgeons, internists, plastic surgeons, and others. Based on the goals of your practice, we can provide industry-specific guidance and support, and also assist with strategic tax planning designed to help you reach those goals. Our comprehensive medical accounting services include:
Business entity selection
Practice start-ups and transitions, including buy-ins, buy-outs, and outright sales
QuickBooks setup and support
Bookkeeping and accounting
Reviews of accounting procedures and internal controls
Profitability analysis
Retirement plan selection
Business tax planning and compliance
Business advisory services
Partner/shareholder compensation systems and profit allocation
Help with IRS tax problems
At J.B. Underhill, CPA, we continually monitor developments in the health care industry, and this allows us to provide our clients in Tampa, FL, and the surrounding area with innovative medical accounting services that help them save money, increase profits, and grow their businesses. Whether we are determining the fair value of your practice in preparation for a sale, merger, or the admission of a new physician, or we are implementing a cost accounting system to support contract negotiations with third-party payers, we'll be available to assist you every step of the way. Additionally, we can design physician compensation and retirement programs and provide financial planning and related medical accountant services to give your practice a true competitive edge. In sum, we provide unique solutions for unique situations. 
For more information about our medical accounting services for businesses in Tampa, FL, and throughout the surrounding area, contact J.B. Underhill, CPA and discuss your financial or operational needs with a health care industry tax expert. We're more than a certified public accountant – we'll be your trusted advisor.